EPA Method 320
– FTIR – The Latest and the Greatest in the GamAir Stables 
In 2018 GamAir purchased the MKS MultiGas Model 2030 FTIR coupled with a MAX Analytical Technologies ASC-10-ST automated sampling conditioner and an AMP-Cherokee liquid nitrogen autofill system using a 30-liter Dewar.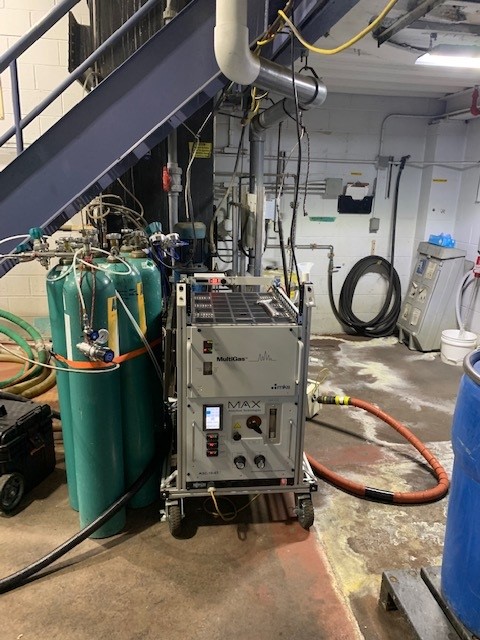 The combination of the MAX ASC-10-ST automated sampling conditioner and the liquid nitrogen autofill allows for remote 24/7 continuous emissions monitoring.  This combination perfectly aligns with remote short- or long-term process and emissions monitoring, with the capability of performing daily calibrations and spiking. 
The MKS FTIR can be housed in one of our temperature controlled mobile laboratories or stationed onsite near the source.  500 feet of heated Teflon or 100 feet of heated stainless steel sample line are available. 
Some unique project related applications of FTIR sampling and analysis are briefly mentioned below. 
Process/Engineering Studies 
Six identical sources were monitored for isobutane emissions.  Real time process changes were implemented to show a reduction in
 isobutane emissions as well as the aggregate amount that could potentially be sent to an air pollution control device. 
Uncontrolled nitric oxide (NO) emissions were monitored over a continuous 36-hour period.  Emissions ranged from 100 parts per million (ppm) to 3 percent (30,000 ppm).  Conventional NO/NOx analyzers do not have the capability of analyzing above 1 percent (10,000 ppm).  The use of the FTIR allowed for real time monitoring thereby identifying where the maximum NO concentrations were being released from the process. 
Non-methane hydrocarbons (NMHC) exiting side by side regenerative t
hermal oxidizers RTO were continuously monitored from a vehicle shredding operation.  The purpose of this test program was to look closer at the "pop it" valve changeover/timing as it related to NMHC spiking.  A great feature of the MKS software allows scans to be recorded as frequently as every 1 second.  Another feature of the MKS software is the ability to go back and look for other compounds.  In the case of this project further analysis of the IR spectrum s
howed other Freon compounds that were present in the RTO exhaust. 
Isopropyl alcohol (IPA) fugitive emissions from an EPA Method 204 temporary total enclosure (TTE) were continuously measured to improve o
n the capture efficiency of the coating device.  These real time measurements allowed for a greater concentration of IPA to be captured thus increasing the concentration at the inlet to the control device. 
Compliance Test Programs via EPA Method 32O 
Six Caterpillar Model 3516 generator sets fueled by landfill gas in central New York state.  NOx, CO, CO2, and moisture via EPA Method 320; wet oxygen (Brand Gaus analyzer) via EPA Method 3A. 
One Volvo 475 kW engine/generator set fueled by biodiesel in New Hampshire.  First Volvo/biodiesel engine of its kind in the United States.  NOx, CO, CO2, NMHC, and moisture via EPA Method 320; wet oxygen (Brand Gaus analyzer) via EPA Method 3A. 
Cigar leaf wrapper manufacturer using isopropyl alcohol (IPA).  IPA, as a volatile organic compound (VOC), sampled and analyzed via EPA Method 320. 
Seven Caterpillar Model 3516C-HD generator sets fueled by ultra-low sulfur diesel in Connecticut.  Ammonia, NOx, CO, CO2, and moisture via EPA Method 320; wet oxygen (Brand Gaus analyzer) via EPA Method 3A.